The President of Uzbekistan holds a phone talk with the First President of Kazakhstan
The President of Uzbekistan holds a phone talk with the First President of Kazakhstan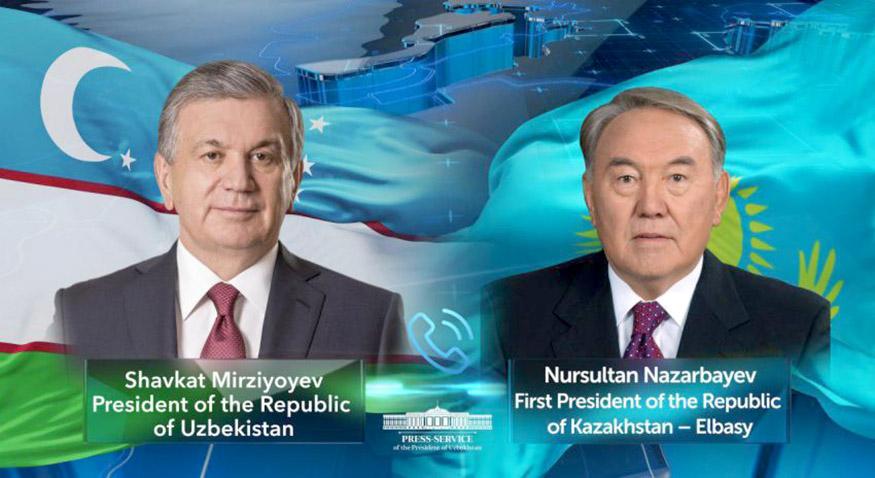 President Shavkat Mirziyoyev has had a telephone conversation with the First President of Kazakhstan, Elbasy Nursultan Nazarbayev.
The head of our state started the dialogue with cordial congratulations for Nursultan Nazarbayev and the fraternal people of Kazakhstan on the First President Day.
Shavkat Mirziyoyev especially emphasized the Elbasy's historic role in the formation and dynamic development of the modern Kazakhstan, elevation of the country's standing in the international arena, as well as his great contribution to the consolidation of friendship and good-neighborliness in Central Asia.
The two leaders highly appreciated the current level of Uzbek-Kazakhstan multifaceted relations built on the principles of strategic partnership, mutual trust and support.
The enhancing practical interaction, primarily in the trade and economic sphere, was noted with satisfaction. Despite the impact of the pandemic, newly devised cooperation projects are being spearheaded in trade, industry, agriculture, transport and logistics, and in other priority areas.
Close coordination continues on early warning and effective treatment of coronavirus infection.
Cultural and humanitarian exchange has been expanding, and efforts are underway on joint projects of interregional cooperation.
Shavkat Mirziyoyev and Nursultan Nazarbayev exchanged views on topical issues of the international and regional agenda.
The phone conversation between the leaders of Uzbekistan and Kazakhstan took place in a traditionally sincere, warm and friendly spirit.
← Back to list