WOMEN SHOULD BECOME ACTIVE PARTICIPANTS OF THE POLITICAL PROCESS
WOMEN SHOULD BECOME ACTIVE PARTICIPANTS OF THE POLITICAL PROCESS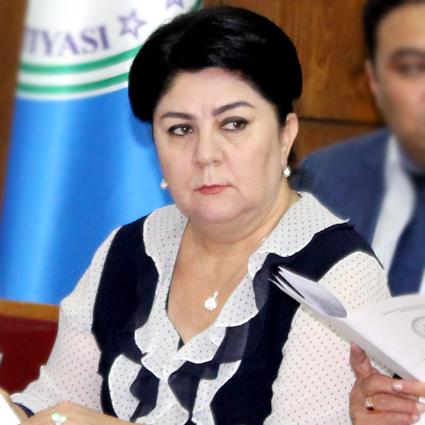 Gulshan ASATOVA, Head of the Sector for Increasing Social and Political Activity of Women of the Central Council of PDPU:
— Women are traditionally the keepers of family hearth, responsible for peace and comfort in homes, raise children and grandchildren. It is gratifying that today the role of women in the country and society is increasing more and more. They are actively involved in socio-political life of the country, making a worthy contribution to its development. Large-scale activity is being carried out in Uzbekistan aimed at ensuring the rights and legitimate interests of women, realization of their abilities and opportunities, transformation of women into equal, active and enterprising members of society. Issue of enhancing social protection of women, their employment, health promotion, protection of motherhood and childhood, improving living standards was raised at the level of public policy.
The President of the Republic of Uzbekistan Shavkat Mirziyoyev in his speech at the twentieth plenary meeting of the Senate of the Oliy Majlis of the Republic of Uzbekistan that took place on June 21, 2019 emphasized the need for further strengthening the role and status of women in public and political life of the country.
Based on the report of the Head of the state, we, the working women and party members, once again analyzed and revised our activities from a critical point of view.
As it is known, in the past short period of time, 2 decrees, 2 resolutions of the President, 6 resolutions and 4 orders of the Cabinet of Ministers of the Republic of Uzbekistan aimed at protecting the interests of women were adopted and are being consistently implemented in our country. Today we are all witnessing the special attention paid by the Head of the state to the full support of women, creation of necessary conditions for them. As a result, the issues of women and families are raised to the level of public policy, which is actively supported by the heads of all departments and organizations of our country. Special attention in this process is paid to social protection of women in difficult life situations, women with disabilities, as well as unemployed women. Such large-scale activity carried out in our country is widely recognized not only in our country, but also on a global scale, by prestigious international organizations.
It should be noted that women make up half, and even more than half of the population of all countries of the world. However, their activity and participation in many important areas of society, that is, in areas that require knowledge, specialty, qualifications and skills, is still low. So, today women constitute more than 60 percent of people living in poverty, as well as 2/3 of the illiterate part of the population. Girls also make up 2/3 of children who are not involved in school. According to the World Health Organization, every third woman in the world (35%) faces domestic violence at least once in her life.
We knowingly cited these figures as an example. After all, only a comparative analysis will allow us to understand more deeply the essence and significance of large-scale reforms carried out in our country in this direction.
If we, from such an analytical point of view, approach a wise and far-sighted policy pursued by the President of our country, we can see that it is aimed at a concrete solution to problems and concerns of women. All ministries and agencies are widely involved in the work of protecting the rights and interests of women, enhancing their status and role in the family and society, as a result of which all organizations and their leaders began to perceive and approach women's issues with particular responsibility. Such an approach to the issue yields positive results, necessary conditions are created to ensure a decent life and work for women and girls.
Such opportunities and conditions call for women to work on themselves, to improve their knowledge and skills, to realize talents and abilities, to work on new ideas, to show initiative and activity, to achieve high results. As a result, every year in our country the number of gifted, educated and promising women and girls are growing.
Here we give one example. At the 63rd session of the UN Commission on the Status of Women, held on March 11-17 this year, which was also attended by the delegation of Uzbekistan, UN Secretary-General António Guterres noted that where women take an active part in political and public life, there the economy grows, stability strengthens and the wellbeing of citizens increases.
Based on this, it can be stated with absolute certainty how correct the state policy chosen by our country is, aimed at protecting the rights and interests of women, achieving their full participation in socio-political life of the country, and ensuring gender equality.
It should be recognized that in our country for many years the problems of women have not been given due attention. Today everything has changed dramatically. Specific, legal mechanisms for solving any problems of women are developed and effectively put into practice.
Today, time itself requires close support for women who come up with new ideas, initiatives and approaches, ensure their active participation in the country's reforms, the political process and transformations. The President of the Republic of Uzbekistan Shavkat Mirziyoyev in his speech at the twentieth plenary meeting of the Senate of the Oliy Majlis of the Republic of Uzbekistan noted that today every woman should not be a passive observer, but an active and enterprising participant in democratic transformations carried out in the country. Such a call places a special responsibility on all ministries, agencies, organizations and political parties.
If we approach our task from a critical point of view, we will understand that there are still many unresolved issues before us. Today, when the world is changing at an accelerated pace, we must effectively use every day, every minute, direct all our strengths and capabilities, knowledge and potential to make women active participants in the democratic process.
So, what should be given serious attention in this process?
First of all, we must try to ensure active participation of all employees and members of the party in the democratic process taking place in the country.
This, first of all, concerns expansion of women's participation in the important political process in our country – the elections. It is necessary to choose among them the most educated, hardworking, enterprising candidates who won the respect of people, prepare them for the deputies, introduce them to people, and most importantly achieve that more of them are elected deputies.
Firstly, one of the important tasks is to expand the number of women in the ranks of our party, to increase their political and social activity. As shown by the analyzes today, about 250,000 women are members of the People's Democratic Party of Uzbekistan, about 200 women and girls are active in the party system, 4 regional and 50 district councils of the party are headed by women. As you can see, over the past period of time, these figures have increased significantly.
It should be noted that in those regional, district and city party organizations, which are headed by women, effective systemic activity is established, executive discipline is observed, an internal approach to work is properly organized, in short, women approach their work and tasks with particular responsibility.
Considering the fact that there are many educated, promising and enterprising women among party members, it is necessary to reconsider the personnel reserve, to drastically improve the system of working with them;
To involve more active women with innovative ideas in the party system, to prepare them for leadership positions.
Secondly, it is necessary to increase the number of women deputies who will be elected from our party. The number of women deputies in the Legislative Chamber of the Oliy Majlis and local kengashes also remains unsatisfactory. As the analyzes show, in the past elections in 2014, 8 (25%) women deputies were elected from the PDPU to the Legislative Chamber, and in 2019 this figure was 5 (18.5%), in the Jokargy Kenes of the Republic of Karakalpakstan, regional and Tashkent city ​​councils, the number of women deputies in 2014 was 43 (15%), in 2019 55 (25.7%), in district and city councils – 384 in 2014 (16.8%), in 2019 – 416 (23.9%). As can be seen, women in the Legislative Chamber has decreased significantly.
Therefore, for the upcoming elections, it is necessary to conduct a special preparation, to choose the worthiest candidates among women, to achieve their election as deputies. To do this, it is necessary to strengthen our cooperation with all parts of the Women's Committee:
Good results will be given by active involvement of active members of the party, including veterans of the party, members of outreach groups, respectable elderly women, community activists who are respected among the population and are able to lead people.
In short, every effort should be made to ensure that 50 percent of candidates nominated by us were women, and at least 30 percent of them were elected deputies.
Thirdly, as it is known, the main goal of the PDPU is to protect the interests of people who need social assistance. To be closer to people, to study and solve their immediate problems and concerns is one of the most optimal and effective ways to increase the number of party followers. In addition, it will help to widely attract candidates for deputies to such good deeds, closely present them to people.
From this point of view, it is important to address the problems of women in difficult life situations, women with disabilities who are not provided with work using new methods and mechanisms, to provide them with close assistance;
Comprehensively examine how effectively women with disabilities, the unemployed, retirees, lonely elderly who have lost their breadwinner enjoy the benefits provided by law, improve the efficiency of work to provide them with legal advice.
Fourthly, each of us should, with deep responsibility and a special approach, participate in the work carried out in the country to ensure employment of women, try to achieve real and practical results in this direction.
Particularly serious attention should be paid to providing jobs for women in difficult life situations, women with disabilities who have returned from places of serving punishment, from foreign countries, together with partner organizations to systematically carry out work on their professional guidance.
At the same time, one of the important tasks before us is close assistance to women in organizing their own business, preparing business ideas, training in popular professions of women who have been engaged in raising children in difficult situations for a long time.
It should be noted that providing women with work in practice will solve many problems of women, prevent family conflicts, divorces, as well as will also serve to reduce the level of crime and delinquency among women.
In conclusion, it should be noted that we, women, must turn from passive observers in need of social assistance into active and enterprising participants in democratic transformations. An active woman is able to bring up harmoniously developed children, ensure wellbeing of her family, make a worthy contribution to prosperity of the country and society.
← Back to list