Problems of disabled persons and pensioners to be solved
Problems of disabled persons and pensioners to be solved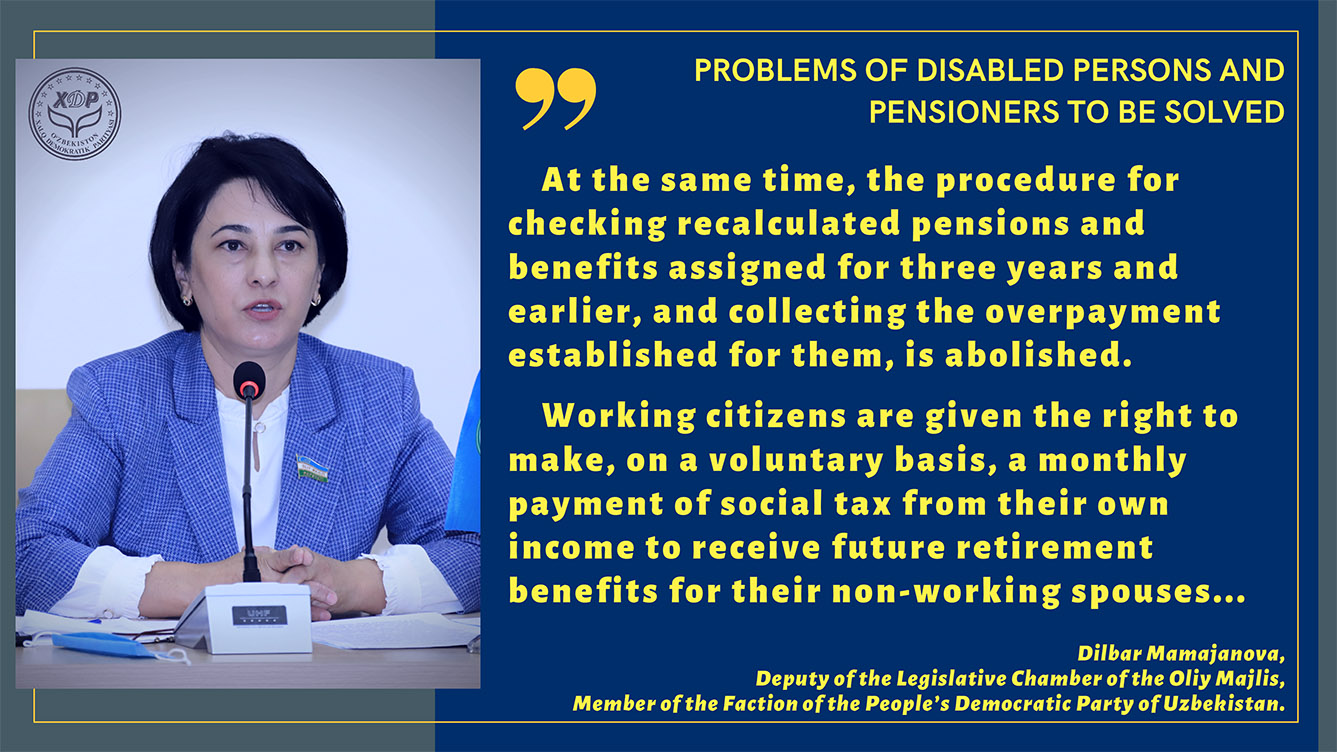 The State Program for the implementation of the Action Strategy in the "Year of Supporting Youth and Improving Population Health", adopted based on an open dialogue with the people, is of particular importance in that it is aimed at solving urgent problems of various segments of the population.
This year's State Program also reflected specific solutions to the problems of not only youth, but also persons with disabilities, as well as citizens of retirement age. In particular, by June 1 this year, the practice of providing the population in need with prosthetic and orthopedic products and rehabilitation and technical means will be transferred to the system for issuing a certificate with the creation of an opportunity for citizens to purchase prosthetic and orthopedic products and rehabilitation and technical means of their choice from any manufacturer at the expense of funds allocated by the state.
In addition, in order to save the invalids with obvious signs of disability from unnecessary red tape, the assignment of disability will be carried out for an indefinite period to a citizen recognized as a disabled person with anatomical defects that have obvious signs of disability, without additional examination.
In order to create the most favorable conditions for citizens when assigning pensions and benefits, a procedure has been established, in accordance with which, starting June 1, 2021:
when assigning a pension, the term of service for the period up to 2005 is calculated on the basis of the records of the person's length of service in the work book without requesting supporting documents.
At the same time, the procedure for checking recalculated pensions and benefits assigned for three years and earlier, and collecting the overpayment established for them, is abolished.
Working citizens are given the right to make, on a voluntary basis, a monthly payment of social tax from their own income to receive future retirement benefits for their non-working spouses.
Pensions and benefits are assigned and paid at the request of a citizen at the place of permanent registration or place of temporary stay. Applications for receiving pensions and benefits in non-cash form are drawn up by citizens in the process of opening bank plastic cards in branches of commercial banks or in electronic form. The program also provides other amenities and innovations.
We believe that such changes made to the State Program will serve to solve many pressing problems of citizens. This is another confirmation that the program was developed based on the proposals of the population.
Dilbar Mamajanova,
Deputy of the Legislative Chamber of the Oliy Majlis,
Member of the Faction of the People's Democratic Party of Uzbekistan
Tags
Deputat
Oliy Majlis
← Back to list