Friendship will only grow stronger
Friendship will only grow stronger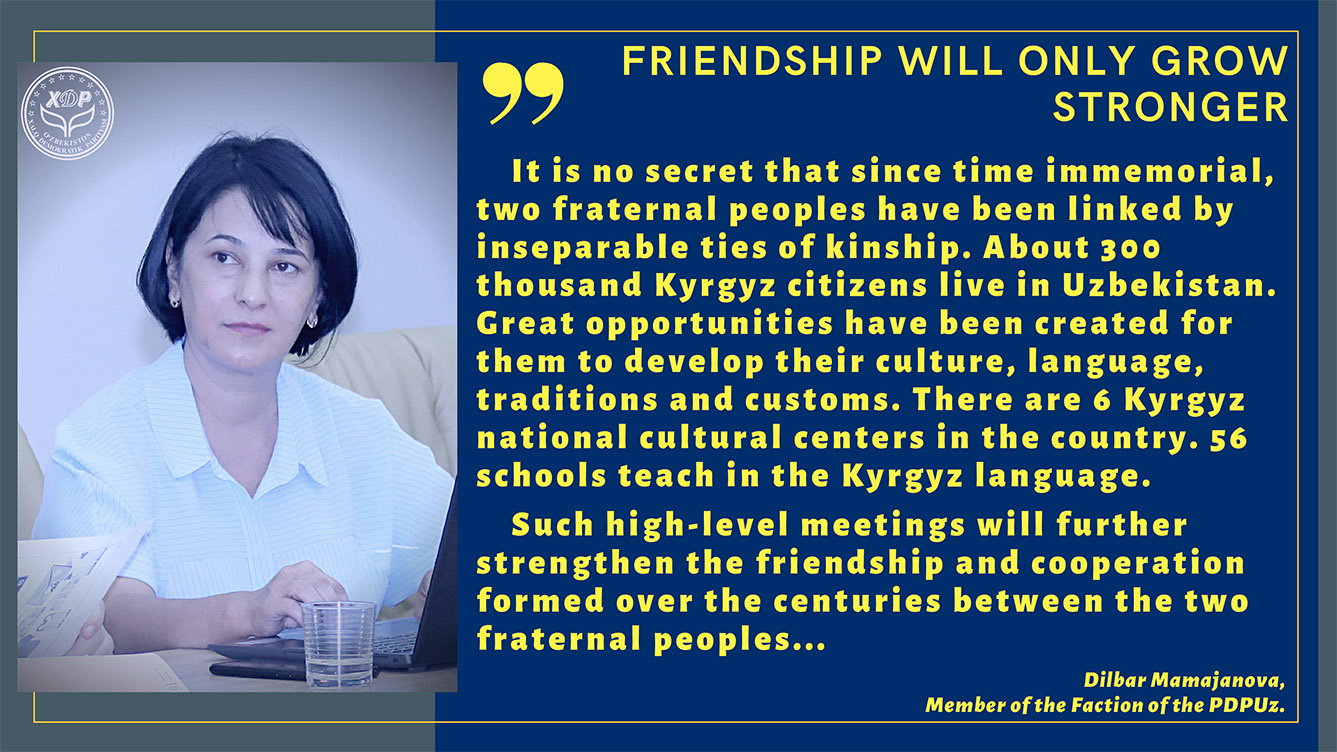 The visit of the President of the Kyrgyz Republic Sadyr Zhaparov to Uzbekistan and the meetings of the Presidents of the two countries will serve to strengthen friendship and good-neighborliness between peoples of the two countries, increase their wellbeing.
In recent years, Uzbekistan – Kyrgyz relations have reached a qualitatively new level. The scale of collaboration has enhanced in all areas.
During the visit, the Presidents of Uzbekistan and Kyrgyzstan adopted a Joint Statement. The exchange of signed documents between the heads of ministries and regions of the two countries took place. During the visit, 22 documents were signed covering almost all areas of the multifaceted Uzbekistan – Kyrgyzstan partnership.
These include the Plan of Practical Measures for Enhancing and Deepening Industrial Cooperation, which provides for the implementation of almost 50 joint projects, the Agreement on the Establishment of Uzbekistan – Kyrgyzstan Investment Fund, documents on mutual supply of electricity and cooperation in the construction of hydropower facilities in Kyrgyzstan.
It was noted that the construction of Uzbekistan – Kyrgyzstan – China railway is of great strategic importance. The construction of this road meets the interests of both countries and will serve to increase the transit potential of the region.
As is known, the centuries-old bonds of friendship, good-neighborliness and strategic partnership between Uzbekistan and Kyrgyzstan also contribute to the wellbeing of the two fraternal peoples. Roadmaps for further enhancing cooperation between Andijan and Osh, Namangan and Jalal-Abad regions, Fergana region and Batken, Naryn regions will undoubtedly serve to strengthen interregional collaboration.
It is no secret that since time immemorial, two fraternal peoples have been linked by inseparable ties of kinship. About 300 thousand Kyrgyz citizens live in Uzbekistan. Great opportunities have been created for them to develop their culture, language, traditions and customs. There are 6 Kyrgyz national cultural centers in the country. 56 schools teach in the Kyrgyz language.
Such high-level meetings will further strengthen the friendship and cooperation formed over the centuries between the two fraternal peoples.
Dilbar Mamajanova,
Deputy of the Legislative Chamber of the Oliy Majlis,
Member of the Faction of the People's Democratic Party of Uzbekistan.
Tags
Deputat
Oliy Majlis
← Back to list