PDPU Faction: The law should not create problems, but, on the contrary, solve them
PDPU Faction: The law should not create problems, but, on the contrary, solve them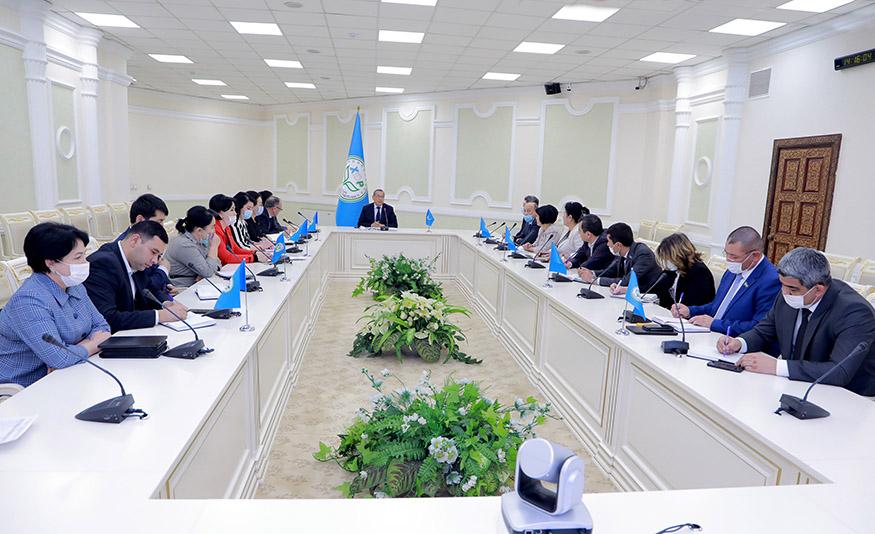 In order to ensure the implementation of paragraph 3 of the protocol of the extended videoconference, held on October 15, 2020 under the chairmanship of the President of the Republic of Uzbekistan Shavkat Mirziyoyev, a new version of the Land Code was developed. Before the draft law is submitted to the Legislative Chamber of the Oliy Majlis, it was discussed at the meeting of the faction of the People's Democratic Party of Uzbekistan to obtain preliminary opinions, judgments and proposals from the deputies.
The new edition of the draft Land Code provides for the introduction of new norms in 63 articles. In particular, Article 14 of the Code is introduced new norms concerning property rights, the rights of legal entities and individuals to land plots, the procedure for the issuance (sale) of land plots, and the Article 14 – on the abolition of the seizure of land plots for state and public needs, the termination of rights of legal entities and individuals to land.
Members of the PDPU faction emphasized the importance of updating the Land Code, taking into account the current increase in investment activity in the country, expanding the range of economic activities of citizens. At the same time, it was noted that the rule of law and the interests of the people must be ensured in the management of land resources, which are the main source of wellbeing of people and the state.
When considering the draft code, the deputies paid special attention to the issue of increasing the transparency of the process of issuing and seizing land, observing the principles of social justice.
According to the draft Code, the powers of the Council of Ministers of the Republic of Karakalpakstan, Hokims of regions and the city of Tashkent in the field of regulating land relations will mainly provide for the issuance of land plots for ownership, use, lease and sale.
The powers of the Councils of People's Deputies to regulate land relations will mainly be associated with the process of land acquisition.
Members of the PDPU faction proposed to re-analyze the norms in this direction, taking into account the possibility of controversial issues in the future.
Deputy Maqsuda Vorisova gave examples of conflict situations that often arise in land relations, and firmly stated that they should be taken into account in the new edition of the code.
For example, there are cases of construction of various service facilities on the territory of state medical organizations. Some hokims transfer state lands to entrepreneurs without making decisions. Such cases can give rise to many problems in the future, the deputy said.
During the discussion, the deputies made a number of other proposals. The responsible working group stated that they will be studied in detail and the results will be reported.
At the meeting of the faction of the People's Democratic Party of Uzbekistan, a number of other draft laws were discussed and decisions were made in the interests of the electorate.
Information Service of the
People's Democratic Party of Uzbekistan
Tags
Deputat
Oliy Majlis
← Back to list